2023 Long Term Care Emergency Preparedness Symposium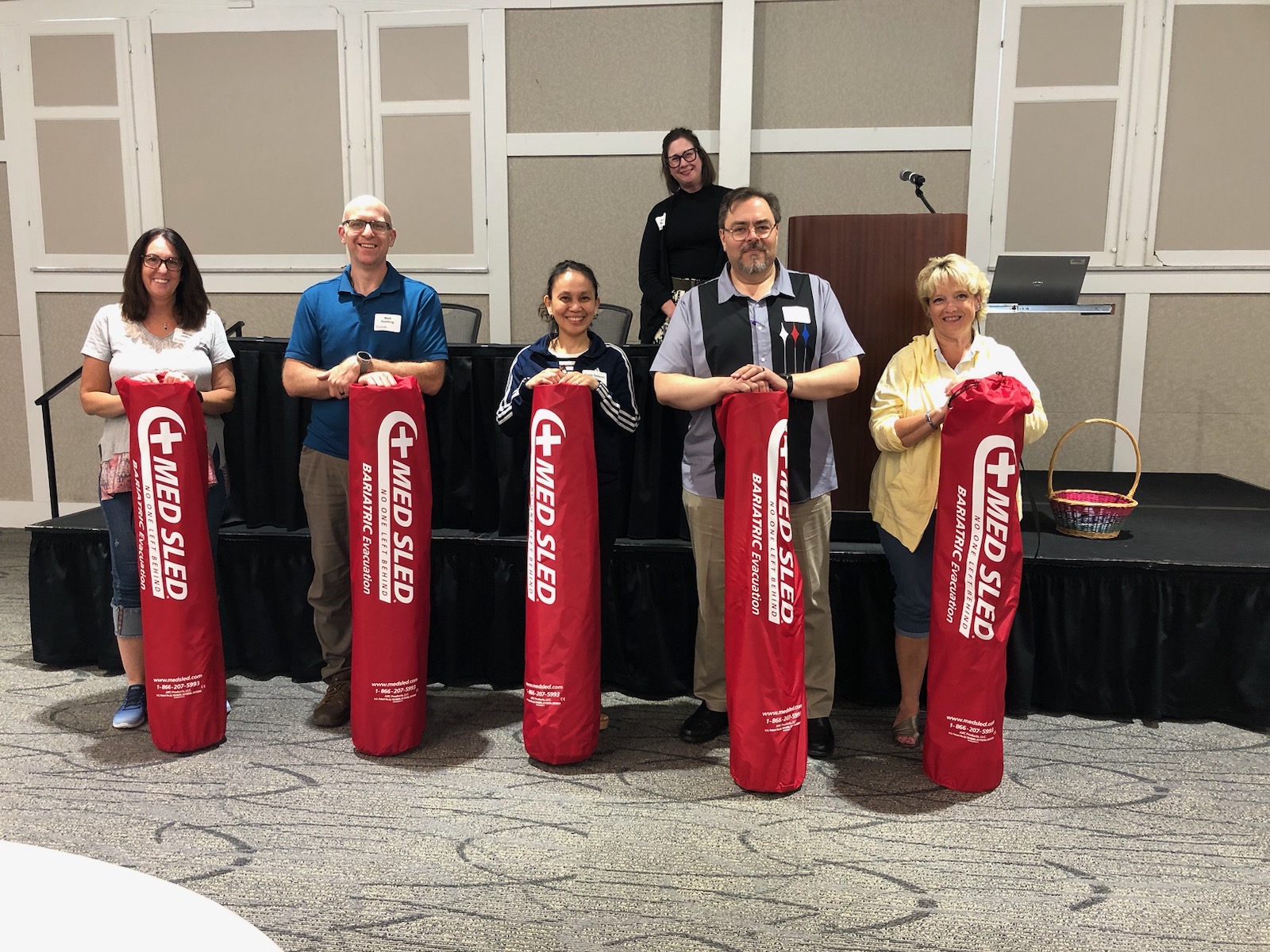 Goal: Enhance and improve the preparedness of Minnesota long term care facilities by providing education, training, and lessons learned to leaders, providers, and other members of the preparedness team.
Overall Learning Objectives – Following this activity, participants should be able to:
Apply lessons learned in recent disasters and incidents to improve facility preparedness.
Identify critical aspects of staff and resident protection during disaster/special incident response.
Integrate behavioral health and wellness best practices to enhance the resilience of long term care leadership and staff.
When: Wednesday, May 31, 2023 8:00am – 4:00pm
Where: Heritage Center of Brooklyn Center 6155 Earle Brown Drive Brooklyn Center, MN 55430
Who should attend: Leaders and staff from Nursing Homes, Assisted Livings, Senior Living, and other congregate care types.
Continuing Education Units available for Long Term Care Administrators!
The Minnesota Board of Executives for Long Term Services and Supports (BELTSS) has approved this symposium for 6.25 CEUs.
A block of rooms is reserved at the Embassy Suites for those coming in from out of town. Make your reservation under this block by following this link: Embassy Suites Hotel Block
May 31
st
Schedule
7:15-8:00am Check-in 
8:00am Welcome and Opening Remarks 
8:10am Presentation: Why do we press harder on the remote control when we know the batteries are dead? Presenter: Mitch Radin Session Description: It is impossible to avoid the stress of working in healthcare, however it is possible to mitigate the impact of that stress. Burnout, compassion fatigue, moral injury and secondary trauma are not weaknesses or failures to cope. They are a product of repetitive stress injuries within our minds and bodies over the course of our careers that are exacerbated by a lack of awareness and meaningful structures of support within most healthcare settings. This talk will consider complex reactions to working as a healthcare professional from a trauma informed perspective, reframing the narrative from "what's wrong" with those of us who are impacted by the intensity of the work, to "what happened" to us along the way.
Speaker bio: Mitch Radin is a clinical psychologist with a 25 year career working in the field of trauma and crisis management. He is currently a psychology manager at Hennepin Healthcare overseeing the Adult Psychology Consultation Service, and Critical Incident Support Team which is specifically tasked with providing crisis and trauma support to staff throughout the hospital system. Additionally, Mitch is regular speaker at conferences on Trauma Informed practices within the helping professions, and has trained multiple organizations, including the Minneapolis Department of Health, on the core concepts of Trauma Informed Care.
9:25am Presentation: Prepare Long-term Care Facility Staff for Workplace Violence/Active Shooter Response
Presenter: Michael Melton
Objectives: 
Identify best practices for promotion of staff preparedness related to workplace violence prevention, especially active shooter preparedness and response, including through use of both in-person and virtual delivery options for delivery of staff training.

 

Identify best-practice strategies and available tools for use in the prevention and deterrence of incidences of targeted violence against employees, clients, and/or patients at long-term care facilities.

 

Identify best-practice strategies that will mitigate the adverse impacts of any targeted violence at long-term care facilities, thereby minimizing any loss of life, injuries, and damage to property.

 
Session Description: Managers and staff at long-term care facilities have an obligation to provide a safe working environment for staff, patients, and visitors during their presence at care facilities. Incidents of workplace violence, including aggressors with guns or other deadly weapons, continue to pose serious threats of physical harm within healthcare environments and staff training requirements have typically been implemented to address these threats. However, restrictions on in-person staff training, especially limitations which have accompanied the COVID-19 outbreak, have prompted manager's use of alternative delivery options for meeting this preparedness need. 
This session will address the positive experiences of Los Angeles County Department of Public Health as they transitioned a highly successful, in-person Active Shooter Preparedness and Response course from the classroom to an equally well-received online course. 
The session will include key integrations of various response strategies and tactical decision-making techniques from the presenter's broad range of professional experiences in law enforcement, military, and emergency management disciplines. This approach provides a more engaging version of traditional response options, which are offered in FEMA's IS-907 – Active Shooter course (as it is currently available online). Finally, the use of two tools for personal safety will be explored (e.g., Personal Action Planning tool and "Safer" Room Evaluation tool). 
Speaker Bio: Mike Melton The presenter has 30 years of experience as a sworn member of LAPD (retiring as a Captain), and has taught security procedures at L.A. Harbor College. For 7+ years, the presenter was directly involved in training staff of Los Angeles County Department of Public Health on Active Shooter Preparedness and Response. As a Subject Matter Expert (SME) on various aspects of workplace violence prevention for this local health department, the presenter not only developed the curriculum for their Active Shooter course but also made significant contributions to their workplace violence policy. The presenter serves on NACCHO's Injury and Violence Prevention workgroup and holds an MA degree in Teaching/Curriculum, as well as a certificate in Technology Based Education. The presenter has made previous presentations on this topic at both the annual Homeland Security Conference and the National Health Care Preparedness Conference. In November of 2022, the presenter's article, which was entitled "Switch to Online Enables New Active Shooter Training for All", was published in the weekly online newsletter of the Domestic Preparedness Journal (https://www.domesticpreparedness.com/preparedness/switch-to-online-enables-new-active-shooter-training-for-all/ , and this article contains links for free access to the full 160-minute course and to Word versions of three tools, which were developed by the presenter. 
10:40am Break 
11:00am Panel Presentation: The Changing Landscape of Long Term Care Post-COVID-19
Presenters: Brett Anderson, Rev. Kevin Coder, Pam Hayle, and Lindsay Schmidt
Objectives: Coming Soon
Session Description: Coming Soon
Speaker Bios: 
Brett K. Anderson, MSN, RN, NE-BC, is Senior Vice President and Chief Ecosystem & Operations Officer for Ecumen. Ecumen is a nonprofit provider, developer and operator of award-winning living spaces and innovative technology and services for older adults. Mission-driven since its founding in 1862, Ecumen's legacy of service reflects a commitment to honoring those it serves. Ecumen is based in Shoreview, Minn., and operates properties and services in multiple states, and provides new development, management, technology, and consulting services. 
Brett leads Ecumen's integrated strategy, operations, clinical, sales and marketing, and business development areas, driving holistic leading-edge solutions for health and societal challenges in our communities. Brett joined Ecumen in 2014 as a Clinical Director and was most recently VP of Health and Clinical Services. Prior to Ecumen, he owned and operated CareLogix Nursing Solutions. He also served as an Adjunct Instructor at Minnesota State University in Mankato and at Saint Paul College. Brett was appointed by Governor Mark Dayton to serve on the Board of Trustees for the Minnesota State College & Universities System from 2011-2013. Brett currently serves on several boards including the Minnesota State University Foundation, Minnesota Organization of Registered Nurses, and the Faith Community Nurse Network. He has a Master of Science in Nursing Leadership and Management from Metropolitan State University, a Bachelor of Science in Nursing from Minnesota State University, Mankato and is currently pursuing a PhD in Management and Public Service from Hamline University. Brett is a Registered Nurse, a Public Health Nurse, and board-certified Nurse Executive. 
Rev. Kevin Coder, Rev. Coder is the Director of Spiritual Life at Walker Methodist; Walker Methodist owns, operates, and manages over 20 senior living communities and provides housing, healthcare, rehabilitation, and services to seniors and the people who support them.
Rev. Coder has has worked in various ministries, including the Casualty Operations Chaplain for the Minnesota National Guard for almost two years. And most recently he worked as the Senior Pastor at St. Francis United Methodist Church, in St. Francis, MN. He still serves in the National Guard, as a Chaplain for the 34th Expeditionary Combat Aviation Brigade and recently returned home from a yearlong deployment to Iraq and Syria.
Rev. Coder's educational background includes earning Bachelors of Science in Psychology from North Central University in Minneapolis, and a Masters of Divinity from Luther Seminary in St. Paul.
Pam Hayle, BA degree from Bethel University in St. Paul, MN, Certified Activity Consultant, ACC. With NCCAP, and Certified Senior Fitness Personal Trainer. SFPT through the National Institute of Health.  Currently serves as the Director of Safety and Quality Support for Cassia Care in Edina, MN.   Primary job duties include, Emergency Preparedness, Safety and Worker's Compensation Programs, and Corporate Director of Therapeutic Activities and Social Services in 5 states that include over 50 facilities providing care and services to older adults and others in need.  She is the NAAP state contact for Minnesota and serves as the Minnesota Activity Association Education Chair.  Pamela is also the former Board-Chair for the Vital Aging Network a non-profit dedicated to Active Aging, and encouraging older adults to be engaged in their communities. Pamela has over 40 years' experience in aging services, and was hired as a "special expert" by CMS to train surveyors on the revised guidance for activities in 2004.    
Lindsay Schmidt, LALD, Assisted Living Director, Dellwood Gardens Assisted Living and Memory Care. Lindsay Schmidt, LALD is the Licensed Assisted Living Director at Dellwood Gardens, overseeing building wide operations. Lindsay has been in the senior care field for nearly a decade and began her tenure at Dellwood Gardens nearly six years ago as their Marketing Director. She has since grown in her role with the organization, expanding into operations for the senior living community.
"What drives me every day are the little moments I get to spend with our residents. They enlighten our community and they're who inspire me to continue to be on the cutting edge of providing high quality care."
Lindsay resides in Woodbury, MN with her husband and two sons. She enjoys staying active, which isn't too difficult with little kids at home!
12:00pm Lunch 
12:45pm From Floods to Fires – Lessons learned in order to maintain care continuity during evacuations Presenters: Jason Belden and Ryan Dickerson Session Description: What do you do if a Sheriff's deputy shows up at your building and tells you to evacuate immediately or everyone will die? How do you move hundreds of non-ambulatory residents quickly with limited staff? These are the exact conversations and situations that have happened and will happen again in long-term care facilities across the country. Join us for a discussion on how these situations played out with an administrator and emergency manager that have responded to multiple disasters requiring full facility evacuations and the lessons learned that will help you conceptualize all the elements needed during LTC facility evacuations.
Speaker Bios: Jason Belden, As CAHFs Director of Emergency Preparedness, Mr. Belden oversee the largest long-term care disaster preparedness program in the nation. He is responsible for developing, monitoring, and advocating Association policy with regard to physical plant, life safety code, and disaster preparedness programs affecting long-term care. As well as developing most of the content for CAHFs Disaster Preparedness training programs throughout the State. Mr. Belden specializes in teaching and training healthcare workers on application of NIMS management strategies in the healthcare spectrum and how to set operational objectives consistent with capabilities set out by ASPR-TRACIE. He works with the healthcare workforce and administration to understand how to stratify risk during disaster or emergencies.
Ryan Dickerson, As a skilled nursing home administrator in California, Ryan is here to share his first-hand experience of not only evacuating a snf during an emergency but also the experience of receiving patients during an emergency. Ryan has a Masters degree from the University of Southern California in Healthcare Administration and a Bachelor's degree in Spanish from Brigham Young University.
2:00pm Emergency Preparedness Citation Trends
Presenter: Pete Cole
Session Description:  
This presentation will cover long term care emergency preparedness citation trends and will include; 
The most frequently cited emergency preparedness citations

 

The fundamental reasons on why the citations are being cited

 

Review of recommended actions to maintain compliance

 

Review of MDH Emergency Preparedness Toolkit and resources

 

Brief MDH guidelines update

 
Speaker bio: Pete Cole, RN, Regional Operations Supervisor   
Pete received a Bachelor of Arts degree in biology and chemistry at Luther College and an Associate of Arts degree at St. Catherine University. He has over 33 years of nursing experience in both acute care and hospice. This has included positions as Program Educator, Clinical Manager and Clinical Director.  He has worked with the Minnesota Department of Health since September of 2019 where he started as a Nursing Evaluator prior to becoming a Regional Operations Supervisor in 2022.  Pete is federally certified to survey nursing homes and hospice agencies and as a Regional Operations Supervisor, he works is Licensing and Certification with a metro evaluation team and is the state lead hospice supervisor. 
2:30pm Break  
2:50pm Leveraging Capacity to Influence Personal Resilience
Presenter: Kerry Appleton
Objectives:  
During this session, participants will: 
Identify the emotions and feelings that impact personal capacity

 

Learn & practice energy self-regulating techniques

 

Create a choice point that benefits your physiology

 
Speaker bio: Kerry P. Appleton, MAN, RN, CCRN-K Resilience Coach, North Memorial Health System Kerry employs her 20 years of moments as a nurse within pediatric intensive care units to inform and actualize real-time team member support options. Kerry believes in the power that a menu of choices can provide to individuals during critical life moments. She currently works across one health system with individuals and teams, building-out an evidence-based menu of options and coaching team members to transition self-care from a special event to many small pauses throughout a day. Kerry considers her patient care population to now be healthcare workers. 
3:50pm Closing Remarks 
4:00pm Adjourn